*NOT COMPATIBLE WITH RIDE COMMAND 
Hit the link to see ride command compatible stereo systems: Polaris RZR Level 3 Stereo System (Ride Command Integration)
The ultimate stereo, equipped with everything you need to achieve the best sound quality out one amplifier. UTV Stereo is known for building the absolute best sound systems for the UTV owner looking for maximum performance. This kit includes everything needed to create sound like no other in your Polaris RZR. We have combined the industries top components and built a kit for success. This kit is the shop favorite and will give you max bang for your buck! There is no other stereo system like ours!
Key Features:

2x 1000W 4-Channel Elite Series Amplifier
1x 1200W Monoblock Elite Series Amplifier
1x Flex 10" Elite Series Subwoofer (Vented)
2x 6.5" Signature Series Speakers
2x 8" Elite Series Compression Horns
4x RGB Speaker Rings
1x Wet Sounds® MC-20® Head Unit
UTV Stereo Elite Stage 8 Stereo System Designed to fit Polaris RZR Models Includes:
2 - UTV STEREO Elite Series 1000.4D Full Range Amplifiers
1 - UTV STEREO Elite Series 1200.1D Monoblock Amplifier
2 - UTV STEREO 6.5" Signature Series Speakers
2 - UTV STEREO 8" Elite Series Compression Horn Speakers
1 - UTV STEREO Flex 10" Elite Series Subwoofer
1 - UTV STEREO RZR Dash Amplifier Mount
1 - UTV STEREO RZR Single Amplifier Mount
2 - UTV STEREO 6.5" Front Kick Panel Mount Speaker Enclosures
1 - UTV STEREO 6.5" RGB LED Speaker Rings (Pair)
2 - UTV STEREO 8" Rear Cage Mount Speaker Enclosures
1 - UTV STEREO 8" RGB LED Speaker Rings (Pair)
1 - UTV STEREO Bluetooth® RGB Controller Kit
1 - UTV STEREO 10" Vented RZR Subwoofer Enclosure
1 - WET SOUNDS® MC-20® Head Unit
1 - UTV STEREO RZR Pocket Mount with Cutouts
1 - UTV STEREO Source Unit Harness + Rocker Switch
1 - UTV STEREO USB / AUX
1 - UTV STEREO AM / FM Antenna
3 - UTV STEREO 147" Power Harnesses (80Amp Fused) [UTVS-HRN-AMP-PWR-147]
1 - UTV STEREO 6 Conductor Speaker Wire (50')
1 - UTV STEREO Subwoofer Bass Knob
1 - UTV STEREO RZR Elite Stage 8 Install Kit
Typically, orders ship the SAME DAY via UPS Ground or FedEx Express.
We do not offer any expedited shipping options currently.
MOST ORDERS WILL REQUIRE SIGNATURE CONFIRMATION
We ship to the lower 48 States only.
We do NOT ship to P.O. Boxes or Apartment Complexes.
For International Customers, we recommend using a USA based freight forwarding company.
We take no responsibility for any shipment delays outside our control.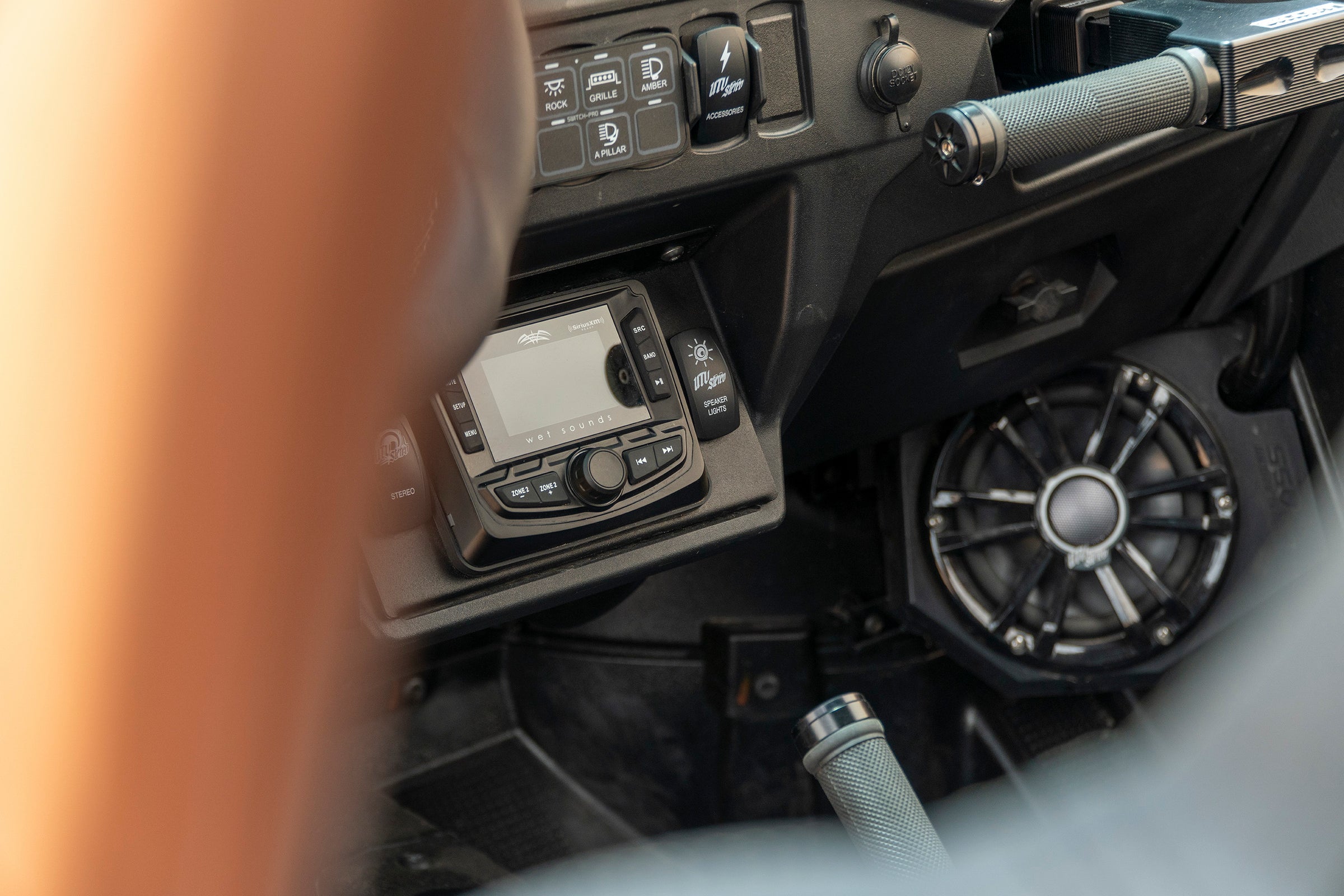 Everything you need
to create sound LIKE NO OTHER
ALL PACKED INTO A SINGLE BOX
wet sounds® mc-20®
media receiver
The Wet Sounds® MC-20® is a feature-rich digital media receiver designed to be used in extreme weather. This compact design makes it easy to install into tighter spaces. The MC-20® also offers a rear camera option and easy to use front, rear & subwoofer controls.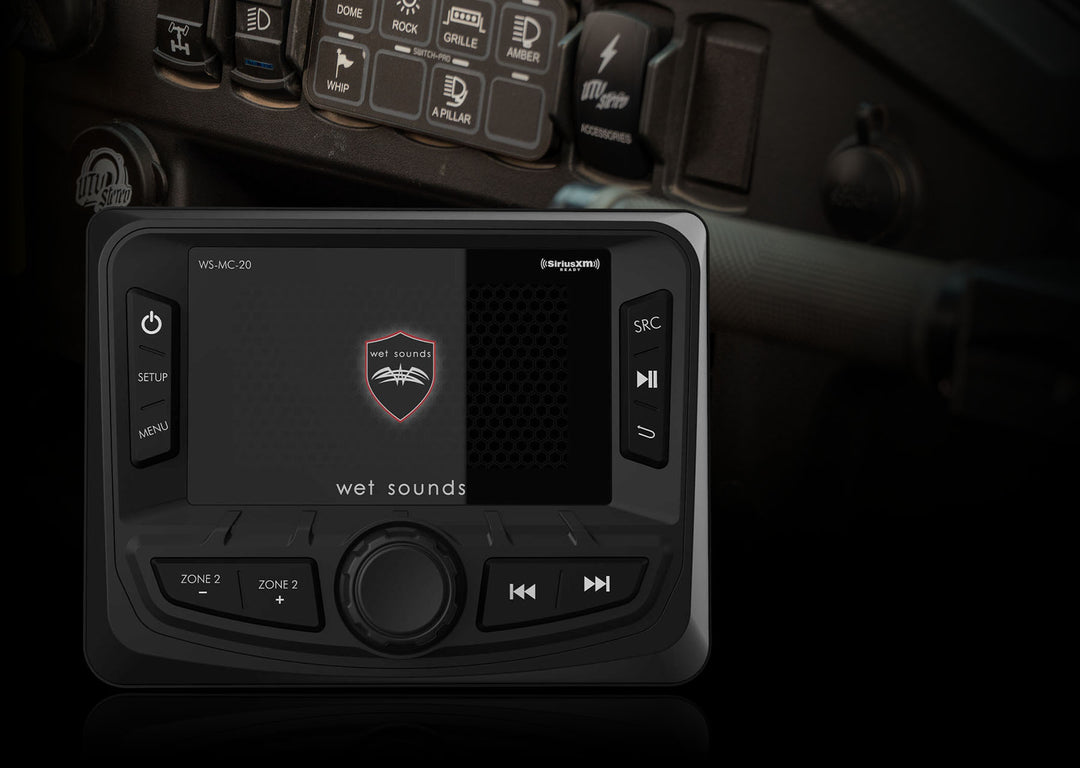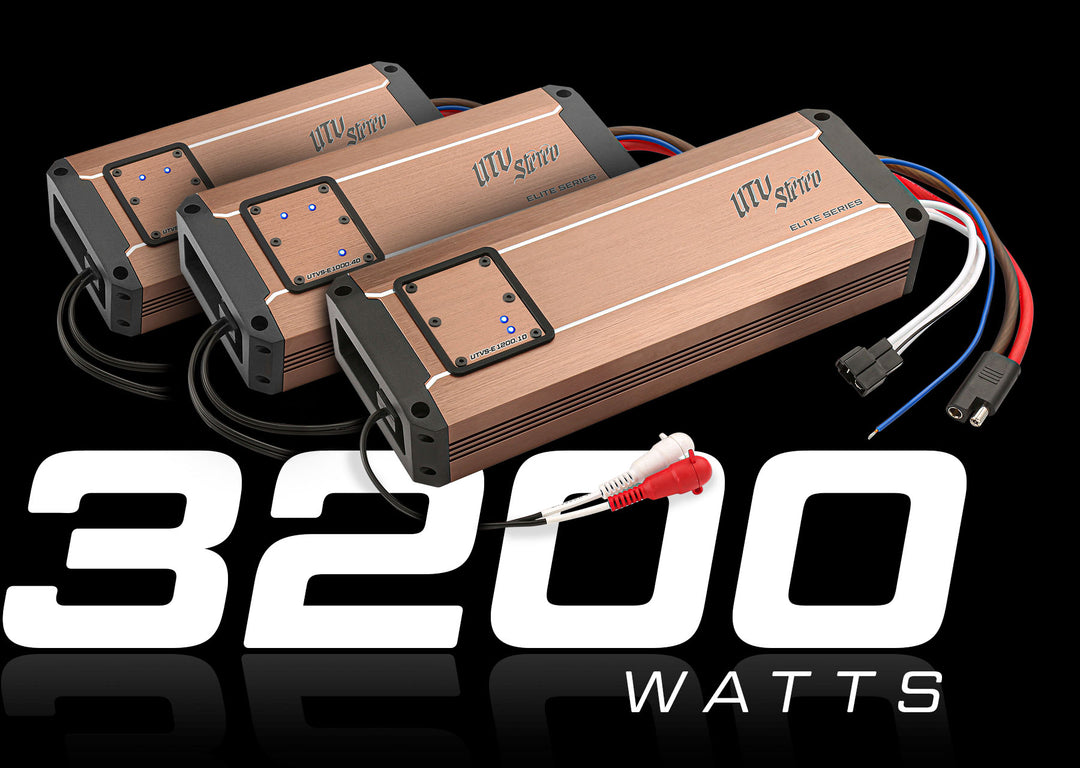 UTV STEREO ELITE SERIES -1X MONOBLOCK |E1200.1D| -2X 4 CHANNEL |E1000.4D| -
TRIPLE AMP SYSTEM
Our Elite Series Amplifiers are IP67 Weather-proof so you can be confident that they will be protected in whatever weather you find yourself in. This amp provides plenty of power to each channel for maximum sound quality and performance.
UTV STEREO FLEX 10" ELITE SUBWOOFER +
vented enclosure
Receive unparalleled bass response with the MOST AIR SPACE & HIGHEST OUTPUT vented subwoofer enclosure in the SxS industry. Our TUNED PORT, DOWNFIRING enclosure is loaded with our competition grade Flex 10" Elite Subwoofer and designed to fit directly into your dash with NO CUTTING or MODIFICATIONS.
Engineered for maximum output, our 10" enclosure is a form fit, direct interior texture match to your RZR® for ZERO firewall rattle, and VENTED towards the amplifiers for extra air circulation. This enclosure provides the LOUDEST & CLEANEST bass response ever designed for your RZR.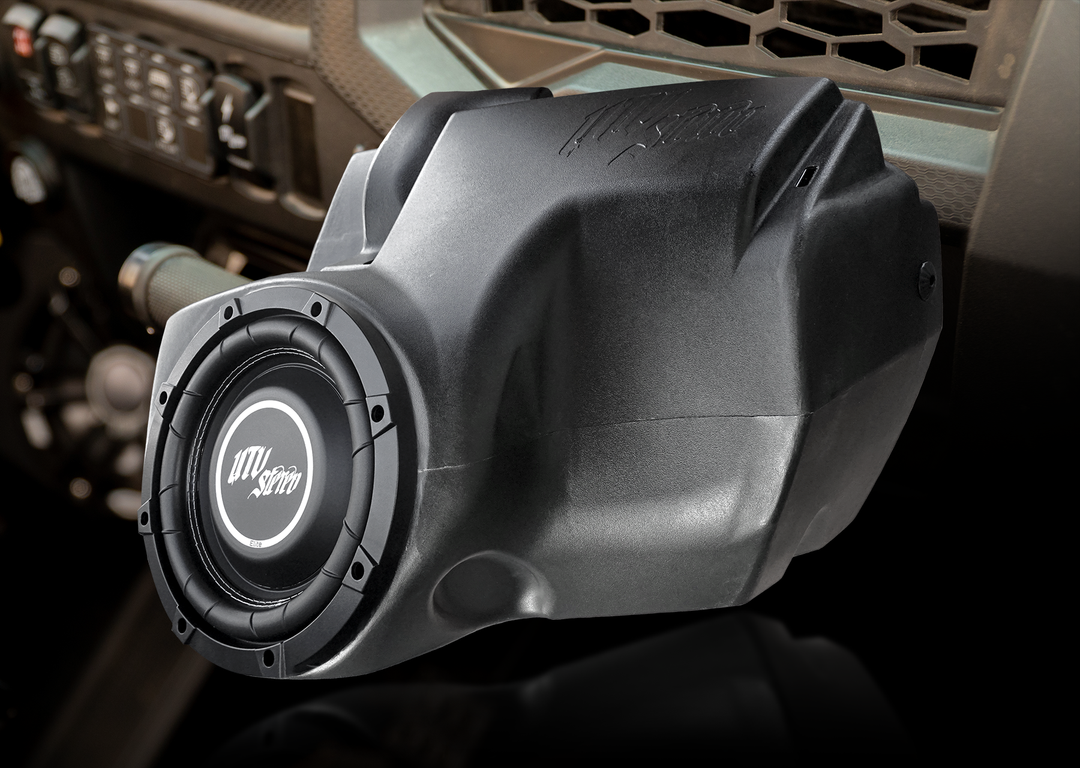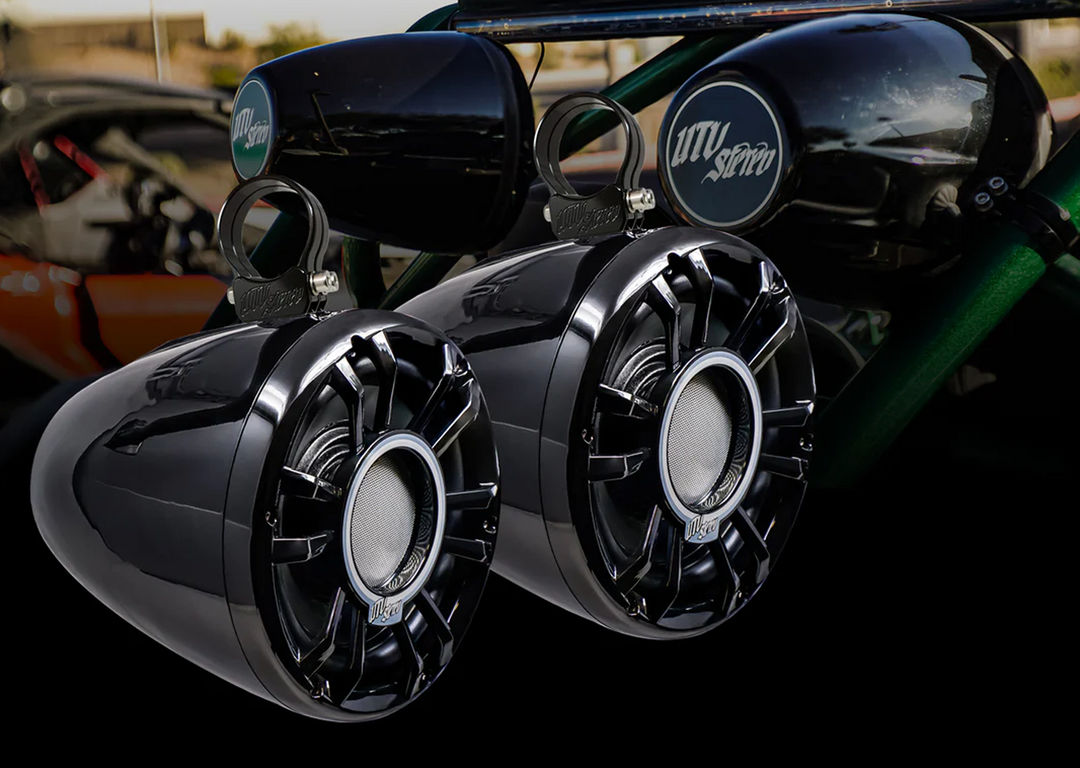 utv stereo 8"
compression horns
Elite Series Stage 6 Includes (1) 8" Pair of Loudspeakers
THE PODS: Our 8" Cage Mount Pods feature a premium, durable design with a custom UTV Stereo Axia Alloys® dual-clamp system for easy 360 degree swivel. Perfectly molded and designed for use with UTV Stereo 8" Compression Horn Loudspeakers.
THE HORNS: The 8" Compression Horn Speakers are high efficiency, high output loudspeakers built to perform exceptionally well at high volumes. They feature an element ready IP65 rating and UV Protective Coating--perfect for UTV applications. These loudspeakers feature a horn-loaded diaphragm which reproduces and projects loud, dynamic audio over 300 yards!
utv stereo 6.5" & 8"
led rgb speaker rings
Each Elite Series Stereo Kit comes with LED RGB Speaker Rings to pair with every speaker. These rings are easily customizable and controllable with our Bluetooth® Controller Kit (Also included with this stereo kit)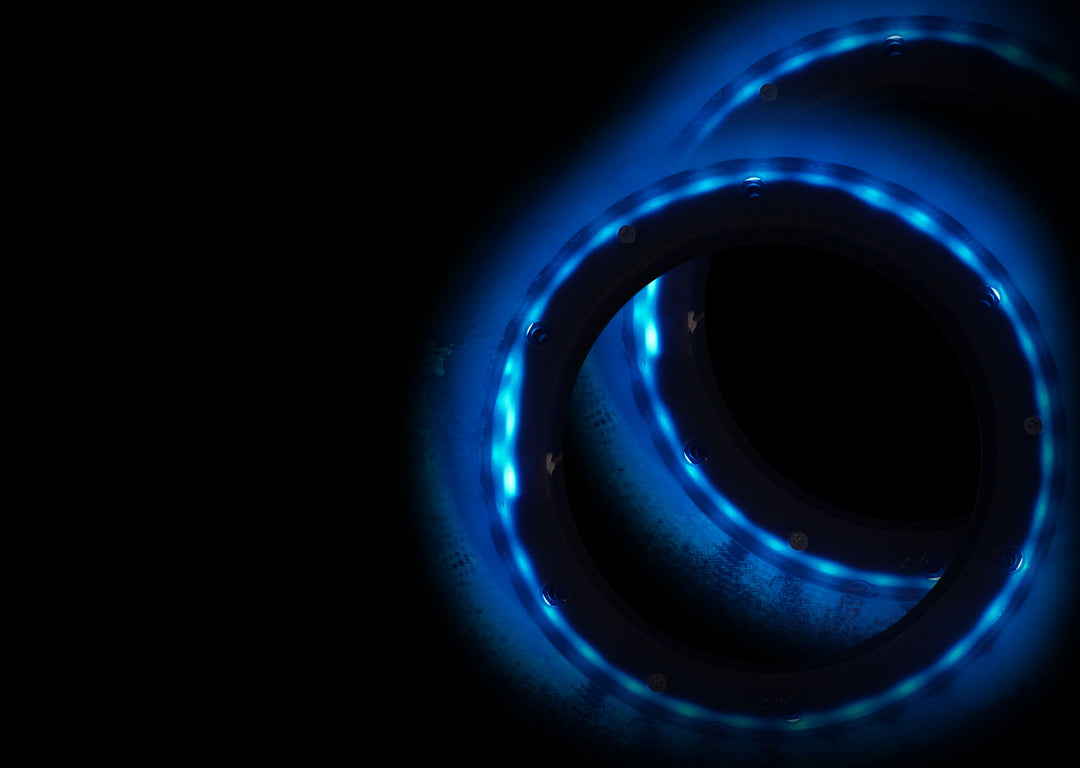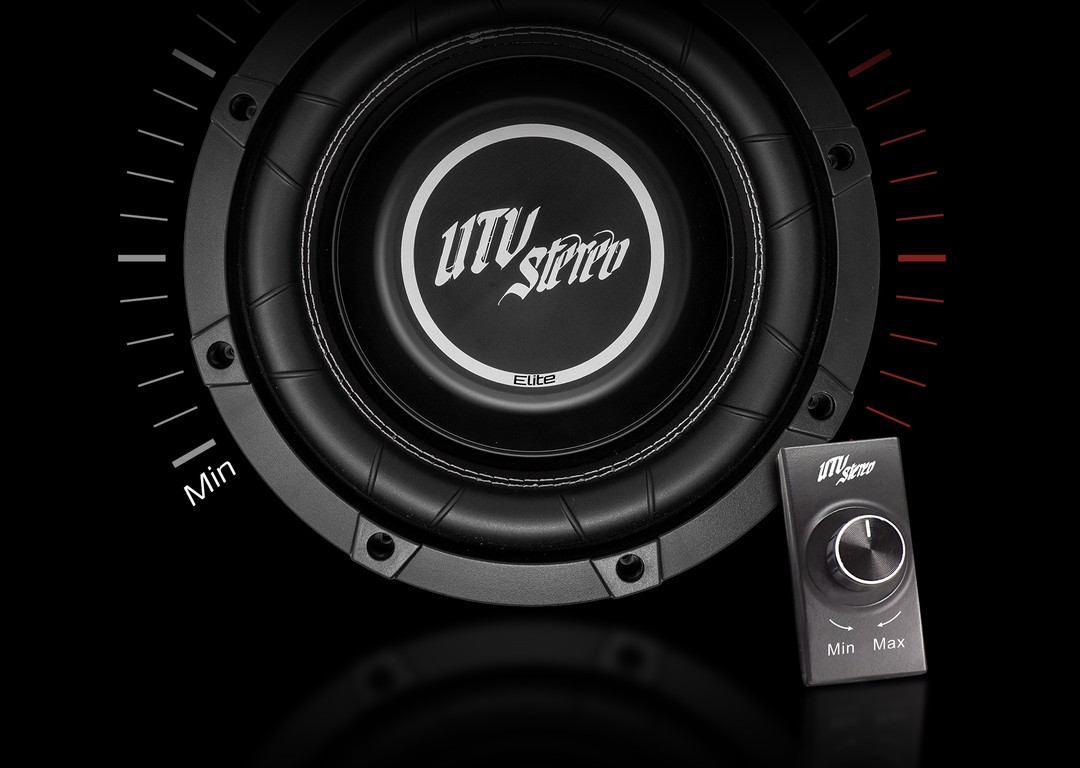 UTV STEREO
BASS KNOB
The UTV Stereo Rocker Switch Bass Knob is the easiest way to control your audio level. This highly responsive bass knob is super easy to install - as it fits directly into a rocker switch location. Seamlessly Integrate this bass knob into ANY stereo system including OEM Ride Command®
utv stereo signature series
6.5" speakers with w/ rgb led lighting
UTV STEREO SIGNATURE SERIES 6.5" SPEAKERS
This kit is equipped with 2 full-range, high output 6.5" speakers.
These IP65 rated speakers each receive 80 Watts of power and feature a one-piece sealed grille and basket. Designed specifically for SxS use to provide super crisp audio ride after ride.